I am am a beginner at this whole backpacking thing. Full disclosure. I've camped plenty of times – but with a nice tent over my head, a case of water (or beer) in the car, and other luxuries. Like perishable food. And toilet paper.
So when Ashley asked if I wanted to head up to the Adirondacks for a weekend and backpack around, I was more than excited. I love new places and experiences. Plus there is no better time to visit the ADK than fall. Beautiful trees, crisp cool air...you get the picture. Insert cliched fall foliage photo here.

We planned to head out of town on a Friday afternoon to maximize our weekend in the forest. The night before we both dumped our bags out and looked at the contents to either:

a. decide to leave it home
b. stuff it in to a dry bag to make it smaller
c. make Pepper carry it? JK, but Ashley's dog Pepper came with us....it's not like I didn't think about it...

After a successful night of packing, I took my last shower, and slept my last peaceful, warm night of sleep before kicking off the trek. We left town and meandered through the ADK nature preserve area instead of just hitting the highway. It was such a beautiful drive along the back roads and a great way to start the weekend. Our plan was to grab a great dinner at the ADK Cafe in downtown Keene before heading to the parking lot "base camp" and sleeping in the car to wake up early at 5-am-ish to start up the hill.
So we all got in the trunk of Ashley's giant FJ Cruiser thing with Pepper to rest up for the next day. I rearranged my gear and blinded Ashley with my headlamp no less than 4 times. Sorry about that. I thought it was kind of uncomfortable, but little did I know that it would be like sleeping on one of heavens clouds when I knew what was in store for me the next night...but I digress...
Then 5am hit. We sacrificed coffee with the plan that we would hit up Johns Brook Lodge on the way – only 3.5 miles from the parking lot starting point. And oh boy, we were booking it! We hit JBL just as the sun was coming up. It was 10 miles total from the parking lot in Keene to the tip-top of the mountain, and the fact that we hit 3.5mi at around 7:30am made me feel goooooooood. But a little slow at the same time, since we're usually running, and I'm not wearing a 30lb. pack and giant waterproof hiking boots.
The coffee at JBL was gross. Just throwing that out there. But along the path so far we hadn't really seen anyone except for two guys who we repeatedly just kept passing, and then getting passed, and then passing them again. Around the 3rd or 4th encounter, right around the lodge, we finally make some very intelligent small talk:

Random guy: "Where are you girls heading?"
Me: //excitedly// "To the top!"
Random guy: "Um....of what?"
Clearly there are a few mountains in the ADK (oh like 46-ish) but for some reason, during this conversation, I just assumed everyone was hiking to the top of Mt. Marcy. Like it is the only mountain in existence for all I know, because that is the one that I am climbing. And the one that I am excited about. The peak that I am only a measly 6.5 miles away from, which I will then take selfies and celebrate victory at once reached in just a few short hours.

And so we continued, seeing no one as we took on another 4 miles. Around mile 8, things started to look a little...different. Like there was ice. Lots of ice. Like, where did all of this ice come from!? And here I am poking at it with a trekking pole, hoping to steady myself as I leap from boulder to boulder. I have no idea how Ashley is doing it with Pepper strapped to her pack – Pepper has 4 legs!! We only have two!! She's just naturally faster!
Then....we reached the summit. A sign reads that there is only one mile left to the top. Seems like a piece of cake? Well, to give you some perspective – our entire 9 mile trek so far took about 5 hours. This ONE mile took almost TWO hours. I'm climbing up this thing using my hands, essentially boludering over ice and frozen rocks, trying to mentally tell myself "almost, almost!" because while it says one mile, it looks about 20 miles away. There are people coming down with crampons and me thinking...what a novel idea...but who knew there would be killer ice in September??
The closer we got to the top, the more people we saw. There was one couple that stood out that I truly admire. The two were wearing jeans and were moving at a pretty steady clip. I'm not sure how we got in to conversation, but when we asked them what inspired their adventure, the man replied,

"Last night we drank margaritas and decided to climb Mt. Marcy. We had a bottle of wine, too, but we drank it on the way up here."

My kind of people. Because they are carefree and spur of the moment, not because they make crazy decisions after alcohol consumption...because I never do that....

When we got to the top, I was thinking one thing: It's really cold. I can't event describe how cold it was. But it was beautiful. I can't describe how beautiful, either. Photos can't even capture it. Because you're in the clouds, every angle looks different each second that goes by. One moment you can see the entire ADK landscape below, the next you are above a cloud. The next you are inside of it all.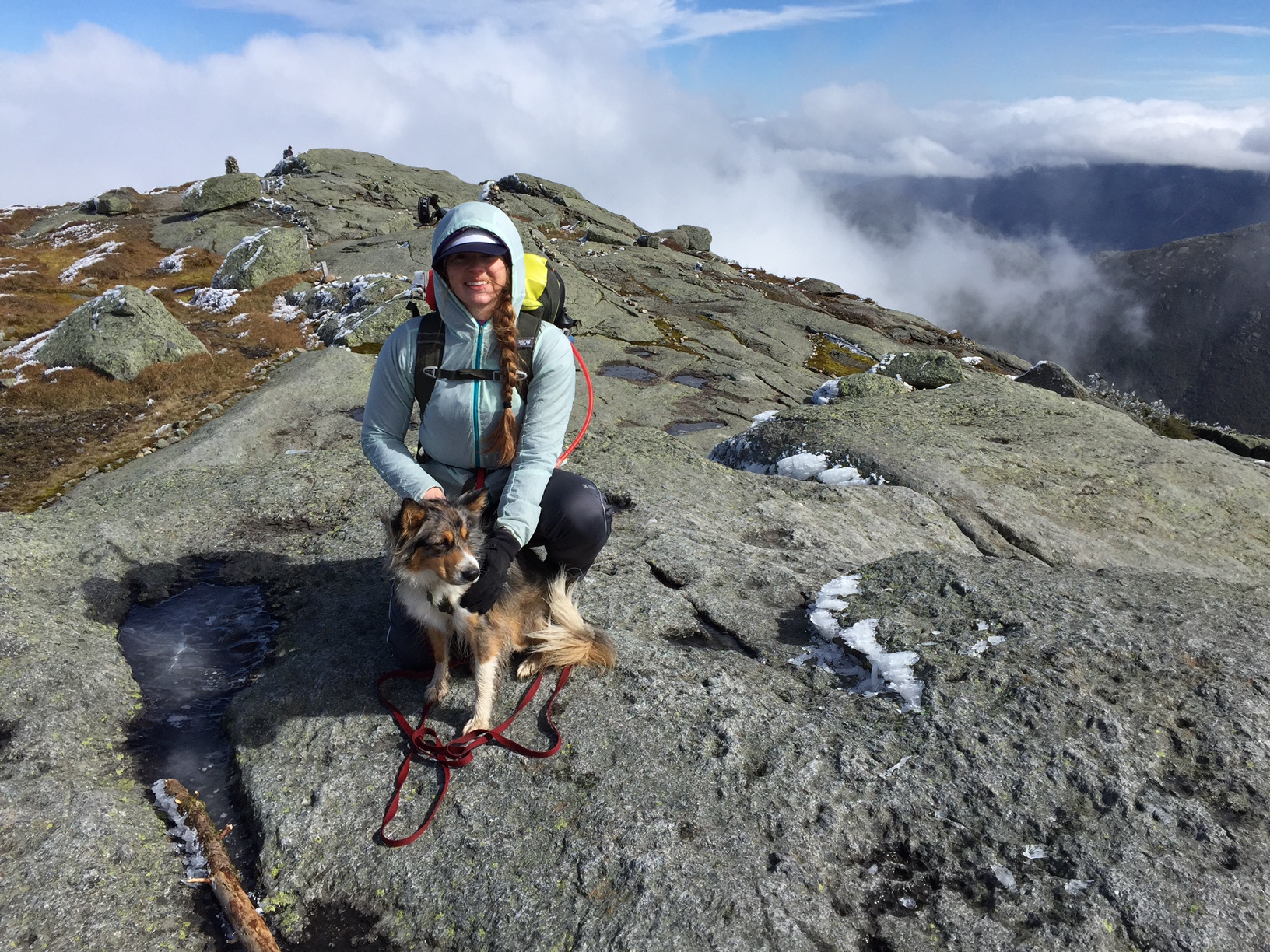 It was amazing, but after 5 minutes up there, it was time to hoof it back. We didn't have a plan at that point. Well, actually we had several plans, which really amounted to having no plan. We could go try to crush another peak (Mt. Haystack was looking pretty close) or we could try another shorter out-and-back peak (Gray) or we could look for a lean-to somewhere lower in elevation, as to not spend the night up in the negative-degree one we had just found ourselves in.

We started the trek down and ditched the other mountains on the way, as our energy waned. We passed a sign for Haystack and kept going. We passed a sign for the slant rock lean-to and kept going. We were determined to make it to a lower elevation. Pepper was tired, too. The ice at some point had make her little paw sensitive, and she was ready to call it quits. We finally made it to the next lean to.
I was never so excited to find a shack in the woods as I was at that moment! But like I said, I am a beginner backpacker, so as we approached, I kept thinking...what if there are already people in there...
There were. Ashley and Pepper were ahead of me, and I heard Ashley say, "Do you have room for two more?" I heard some conversation as I popped out of the trees. They thought by two more she just meant her and Pepper, haaaa ha. Nope.

So we set up camp. Two random dudes (named Mark and Josh) and us on the other side. There were no other lean-to's around so this was it for us. Only later would I find out that we hit the lean-to jackpot. Right away, we headed down to the stream to cook and purify/fill our hydration bags. After a delicious(ish) dinner of chicken and rice, we headed back up and Mark asked if we wanted a beer. Someone is offering me a beer in the forest, so what do I say?

"What kind?"

HAHA I asked what kind. What a beer snob. But you know what? It was an IPA. Ashley and I are IPA lovers. Our favorite of all beers. And somehow we are getting handed IPA's in the middle of the ADK backcountry. What luck! And then beef jerky. And then Mark pulls out a block of cheese the size of a brick. I have no idea how these guys packed all of this, but it was amazing and, like I said, we hit the lean-to jackpot.

The rest of the night the guys regaled us with ADK High Peaks stories. Mark, a 46-er, and Josh, a 46-er in the making, told us some great loops to check out on our next trip, where we might see a bear, where we won't see a bear, and how to keep warm at night (hint: Jim Beam Maple).

I finally started to crash around 9pm. Just from general exhaustion. I could have stayed up and hing out all night. In my style of camping, we would all be sitting around a bonfire, cooking a big steak over a grate with potatoes and butter wrapped in tin foil cooking in the embers. With music playing from my iPod, and a tent to crawl in to when the party was over.

On this fine night, I had a couple hand warmers, and a sleeping bag I borrowed from Ashley's husband that I could not, for the life of me, figure out how to zip. They all questioned me in the morning when I was wearing the sleeping bag like a cape. I just couldn't figure it out. It was freezing. SO COLD. I can't even imagine what it would have been like sleeping another 2000 feet up.

We left that day and wrapped up the final 4 miles quickly. We were back in the car by noon, on our way to hot food, eventual showers, and warm beds. Yet the only thing Ashley and I talked about in the car was going back. Which mountain was next. Are we on our way to the 46-ers? Well, we just might be...

It only starts with one, right?

__________

So to compare notes, Ashley and are I both answering a few of the same questions. Perhaps some answers will be the same...perhaps radically different...

Name one thing you would bring if you were to do it again?
More hand warmers. So that I could put 10 in my sleeping bag and roll around in them.

One thing you would leave at home?
Nothing! I literally used every single thing in my pack except for an air horn (in case of bear encounter, which we did not have). Ashley seems to think that my blue glowsticks were not necessary, but I did take them out and twirl them around at the lean-to for a moment, so I used them, and I am happy I brought them.

What was the worst part?
I loved the whole experience, but if there was ever one moment that I was thinking "f-that" was when I saw the 1-mile to the peak sign. Like, seriously? That is a mile?? It looks 10 miles away.....so far....

What was the best part?
Getting to the top. Duh.